Kilde:
http://www.vg.no/nyheter/utenriks/indonesia/slaven-myint-kom-hjem-etter-22-aar/a/23480873/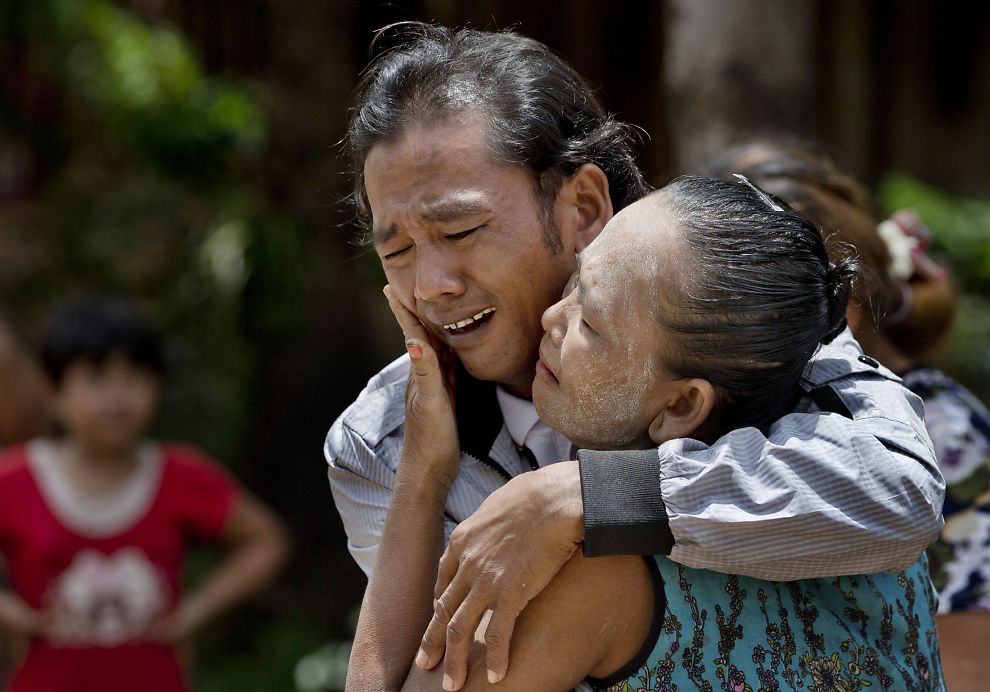 HJEMME: I mai 2015 kom Myint Naing endelig hjem til landsbygda han forlot for to tiår siden. Han har i likhet med mange burmesere vært solgt og utnyttet som slaver i fiskeindustrien i Sørøst-Asia.
Da Myint var 18 år pakket han sekken og byttet ut landsbylivet i Myanmar mot et par måneder og raske penger på sjøen. Lite visste tenåringen at reisen skulle bli 20 år lenger, og hans verste mareritt.

I 1993 skrittet Myint Naing ut av den lille landsbygda i Mon State sør i Myanmar, etter at en fiskehandler fristet med store summer for å få tenåringen til å jobbe på sjøen i noen måneder.
Destinasjonen var Thailand og reisen lang, men belønningen på 300 dollar var nok til å forsørge familien i ett år.
Han gjorde som flere av de lokale uutdannede ungguttene, og takket ja. Lite visste han at det skulle gå to tiår før han så sin familie igjen.
– Livet mitt har vært så forferdelig at det gjør vondt å snakke om det. Jeg savner min mor, sier Myint Naing til
AP.
«Dere er solgt. Ingen vil redde dere»
Historien til den 18 år gamle gutten som forlot hjemlandet i 1993 er lang og brutal.
«Dere burmesere vil aldri dra hjem. Dere er solgt, og ingen vil redde dere».
Dette ble tenåringens første møtet med kapteinen på fiskeskipet med destinasjon Thailand. Landet håver årlig inn en fortjeneste på 7 milliarder dollar fra den lukrative fiskeindustrien, og hvert år blir tusenvis av migranter lurt eller solgt inn i bransjen.
Nyhetsbyrået AP har intervjuet hundrevis av båtslaver som alle forteller historier, lik Myints, om de brutale arbeidsforholdene fra den
skitne bransjen.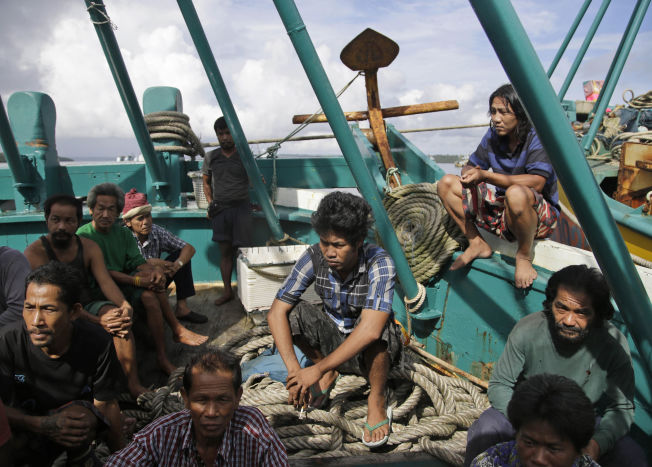 Fysisk mishandling, tortur og fangenskap er en del av hverdagslivet, og blir gjerne fulgt opp av lusen lønn og mangel på vann og ordentlig mat.
I 1996, etter tre år som båtslave fikk Myint nok og rømte. Han søkte tilflukt sammen med flere slaveflyktninger i jungelen på de indonesiske øyklyngene i Molukkene.
Noen startet nye familier med de lokale, delvis for å beskytte seg mot nye slavedrivere, men Myint ønsket seg hjem igjen.
Søkte tilflukt i jungelen
Men burmeseren kunne ikke henvende seg til myndighetene i frykt for at politiet skulle gjøre profitt ved å selge ham tilbake til slavedriverne. Myint våget heller ikke kontakte Myanmars ambassade fordi det ville avsløre ham som en ulovlig innvandrer.
I åtte år ble han værende på de indonesiske øyene, mens savnet etter familien i hjemlandet vokste seg større. Lettelsen var stor da han i 2001 kom i kontakt med en kaptein som skulle frakte fiskere over til Myanmar – mot at de ville jobbe for ham.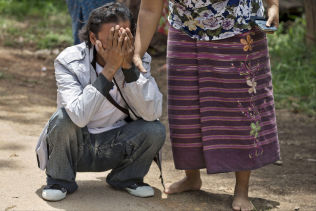 Arbeidsforholdene var like ille som første gangen, men det var den eneste muligheten han så.
Men etter ni måneder på åpent hav, brøt kapteinen løftet sitt – og Myint måtte rømme, igjen.
Han skylte i land på de samme indonesiske øyene han hadde søkt tilflukt på tidligere – der ble han værende i nye elleve år.
Men i 2011 endret alt seg.
Vendte hjem igjen
AP hadde endelig avdekket en forbindelse mellom slaveriet i den skitne fiskebransjen og de produktene som til slutt endte opp i amerikanske butikkhyller.
Presset på indonesiske myndigheter til å redde slavene ut av industrien var stor, og påfølgende frigjøring av tvangsarbeiderne pågår fortsatt den dag i dag – 800 er reddet og sendt hjem per dags dato.
Én av dem er 40 år gamle Myint Naing.
To tiår etter at han forlot sin familie i Mon State i Sør-Myanmar kom han tilbake til den lille landsbygda han hadde lengtet hjem til i lang tid.
Søsteren han forlot da hun var ti år gammel sto og ventet på ham.
– Vi trenger ikke penger. Vi trenger bare familie. Nå er du tilbake, og det er alt vi trenger, sa søsteren, Mawli Than, og omfavnet sin bror.