http://www.guardian.co.uk/world/2012/dec/13/former-thailand-pm-charged-murder
Abhisit Vejjajiva accused of death of taxi driver amid 2010 anti-government protests during which 90 civilians died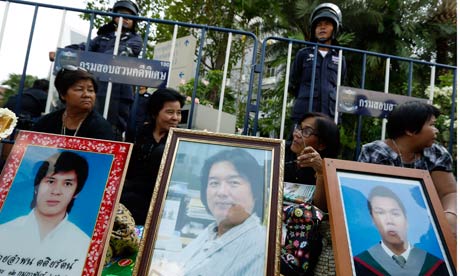 A former prime minister of
Thailand
has been charged with murder over the death of a taxi driver during a military crackdown on anti-government protesters in 2010.
The murder charge against Abhisit Vejjajiva stems from the use of live ammunition that led to 90 civilian deaths and about 1,800 people being injured. He is accused by the Department of Special Investigation of allowing the unrestrained use of deadly force to quell the demonstrations.
Abhisit, who was interviewed by DSI officials for more than four hours, said he had formally acknowledged the charge against him but was not guilty. He said he would present documents supporting his position after studying the charge more closely.
The DSI said it believed Abhisit culpable in the death of Phan Kamthong because he had authorised troops to use war weapons against protesters. A recent criminal court inquest found security forces responsible for the man's death.
The shooting occurred during eight weeks of demonstrations by supporters of Abhisit's ousted rival
Thaksin Shinawatra
, known as red shirts, who occupied a central intersection in Bangkok. As tensions grew Abhisit was moved to an army safe house that became the centre of protests. Soldiers forcefully ended the demonstrations on 19 May 2010 by opening fire on protesters.
Abhisit's former deputy, Suthep Thaugsuban, who was in charge of the special security agency set up to contain the protests, has been charged with the same offence.
The two were greeted by DSI chief, Tharit Phengdit, as they walked smiling through a gauntlet of reporters into the offices of the agency. A court must accept the case before it goes forward to trial.
The political tide has shifted several times since Thaksin's ouster. His sister Yingluck Shinawatra is now prime minister, while Abhisit leads the opposition as head of the Democrat party. Tharit was DSI chief during Abhisit's administration and was widely seen then as his hatchet man for aggressively prosecuting red shirt leaders and supporters.
Thaksin is in self-imposed exile to avoid serving a two-year jail term for a conflict of interest conviction in 2008. His supporters say he was unfairly convicted and have campaigned for his release without charge, while his opponents, including Abhisit, insist he not be let off the hook.
The case against Abhisit and Suthep is seen by many as a bargaining tool to gain support for an amnesty that would cover many of the people charged or convicted of crimes in connection with the political battles after the coup. An amnesty to lift Thaksin's conviction would be would be more politically palatable if it covered Abhisit as well.
However, in recent interviews Abhisit has said he is willing to face justice, implying Thaksin should take the same position.
About 50 red shirt demonstrators gathered peacefully outside the DSI headquarters before Abhisit's arrival, seated on the ground and holding framed photos of relatives killed during the protests, as they shouted
protest
slogans over loudspeakers.
Several expressed the hope that the politicians would take responsibility for their actions and be placed in custody immediately after being charged.
Payao Akkhahad's daughter, Kamolkate, a volunteer medic, was shot dead while treating injured red shirts sheltering at a temple. "Her siblings and relatives have been waiting for this for a long time," said Payao, 47. "This is the first time a person who has ordered the killing of civilian protesters will be put through legal proceedings. Even though it's late, it's better than a day that never comes at all."
About a dozen people gathered outside the DSI office to offer flowers and support to Abhisit and Suthep. About 400 police officers attended to stem any violence but had little to do.